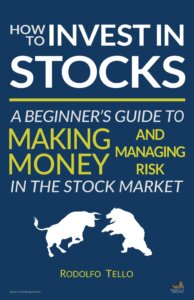 The stock market can be intimidating for new investors and people considering investing for the first time. Stocks, bonds, options… it almost sounds like another language!
But underneath the jargon, the stock market provides a great opportunity for people to grow their wealth over time, and use those profits to build the life they want.
This book shows new investors like you how to survive and thrive in the stock market.
Unlike other books that focus only on one particular investment or trading style, this book gives you an overview of the different stock investment strategies that beginners should know about, providing you with the means to develop an approach that fits your specific circumstances.

After reading How to Invest in Stocks, you should be able to:
✅ Understand how the stock market works and how it can work for you
✅ Recognize the different factors that can affect stock market prices
✅ Gain a basic knowledge of the main approaches to investing in stocks
✅ Learn what you can do to protect your investment capital from the beginning
✅ Handle the emotional aspects associated with stock market fluctuations
✅ Understand different ways to put together your own investment approach
You don't need a degree in business or finance to start investing, but you need to understand how the stock market works so that you know what you are doing and avoid costly mistakes.
This book shows you how to get started, giving you a solid foundation, in a way that is easy to understand even by people unfamiliar with the topic.
Every day, thousands of beginners just like you are making their money work for them in the stock market. Now it's time to get ready so that you can join them.
Read How to Invest in Stocks, and begin your journey to financial prosperity!